(

brickset_news_feed
Sep. 19th, 2017
12:20 pm
)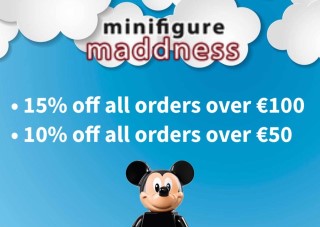 Here's word from Conor at Minifigure Maddness about a special offer for you:
"This Month we are offering Brickset readers two excellent limited offers
10% off all orders over €50 when you enter code Brickset16 at checkout
15% off all orders over €100 when you enter code Brickset18 at checkout
We have every Minifigure series from 1-17 in stock, we also offer Express shipping worldwide, no fees and secure payments by PayPal and Stripe.
Both offers will end on 26th of Sep at 12am GMT so place your order now.
© 2017 Brickset.com. Republication prohibited without prior permission.